Carol McCormack
Australian landscape paintings
home profile about gallery exhibitions stationery public art
contact copyright media purchase travels book

EXHIBITIONS

2020 - oh what a feeling, no solos coming up, but do watch out
for my work at various group shows around the countryside
and please look at Glenmorgan Art Group 2020 Vision
for exciting news and developments

PAST EXHIBITIONS
Wanderer
Solo exhibition at
GRASSLANDS GALLERY TAMBO, Qld
March 23 - May 25 2018
GO TO gallery for more info
Treks, Journeys and Expeditions
Solo exhibition at
DOGWOOD CROSSING @ MILES
November 17, 2017 - January 30 2018
see Gallery for details of paintings still available
Across the Continent
at Feather and Lawry Gallery Toowoomba April-May 2017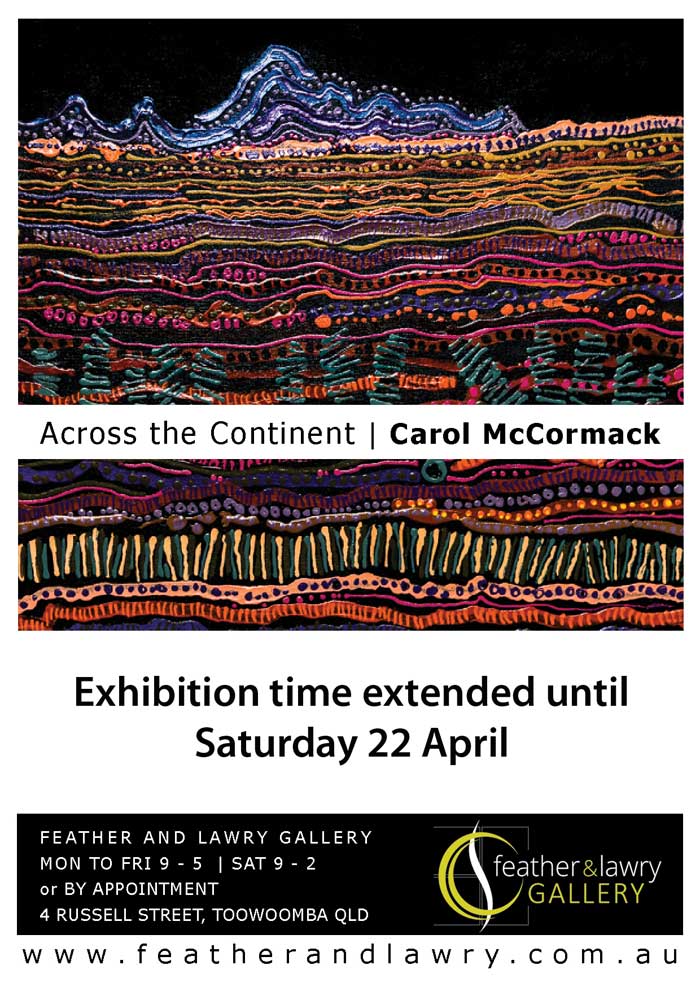 Feature artist at Bloomin' Creative Showcase
Friday 23 Sept - Wednesday 28 Sept
at Tara Memorial Hall - over 250 artworks

treks
Solo exhibition
Feather & Lawry Gallery, Russell St, Toowoomba
15 April - 15 May 2016
This exhibition has now finished, but some of my works are still hung at Feather & Lawry Gallery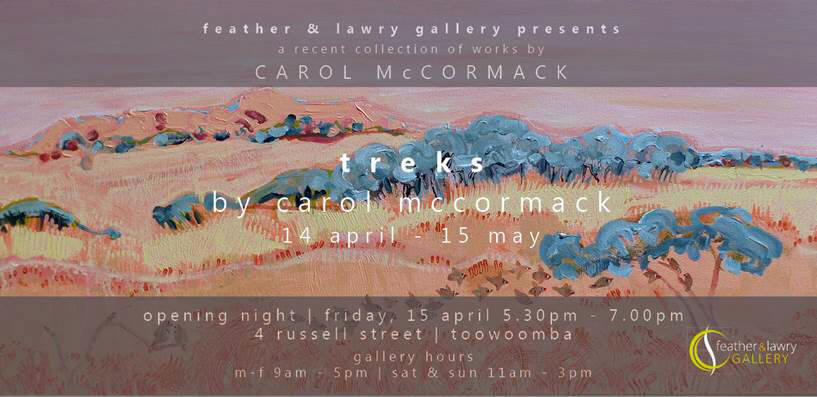 Find us on Facebook:
Feather & Lawry https://www.facebook.com/Feather-Lawry-Gallery-464441273681009/
Carol https://www.facebook.com/carolmccormackartist
see links to details of paintings on gallery page
the big squares (91x91cm)
Jacana and lilies, Lake Kununurra

Marella Gorge, Nicholson River

Camp at Pentecost River

the long blacks (120x45cm-ish)

Mornington to Mt House

Gold Rush, Hall's Creek

way, way out west series (91x40cm)

Way, way out west - Diamantina

Way, way out west - Gidgee and Zebra Finches

Way, way out west - mirage

Yang Yang Range from Yaraka pub

the smaller squares (45x45cm-ish)

Woodgate wetland

Mt Aleck, Flinders Ranges

Diamantina I

Sunset Lagoon diptych

birds (various sizes)

Bustards - Barkly Stock Route

Plenty Highway Brolgas

Slow burn on the Roper

the little squares (30x30cm-ish)

Spider lilies, Mooloolaba

Whistlers

The Glenmorgan Art Group exhibition ARTiculate
at Gallery 107 Dalby
in October 2015 was a great success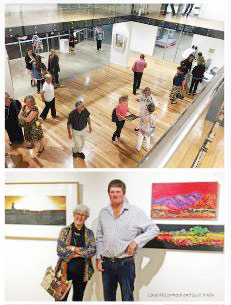 on opening night
top - looking down from the mezzanine floor
bottom - Carol McCormack and Scott Bridle

scroll through these exhibitions to view more works
21 March - 4 May 2014

CONNECTING WITH COUNTRY

Roma on Bungil Gallery, Roma, Queensland
thanks R.O.B. for your help with this exhibition,
Easter in the Country was a great experience!
view here
September 2012
TAKE 3 - a group showing
with Patricia Hinz and Catherine Rose

April 2012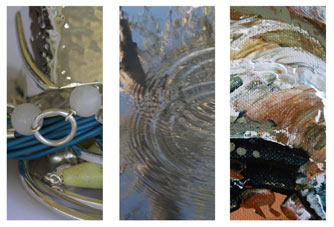 photography by Clare Mailler
jewellery by Jen McCormack
paintings by Carol McCormack
At Surat on Balonne Gallery, Surat, Qld
precious objects, precious moments captured,
precious family links


May 2012
Crossing the Divide
a collaborative project aimed at helping develop regional partnerships between Toowoomba Regional Artists,
Toowoomba Arts Spaces and experienced South West Artists.
This project was developed by Blockwork and delivered through made. Creative Space
Paintings by Patricia Hinz, Carol McCormack and Catherine Rose

2011
myall park botanic garden view - with a finer brush
now closed, but you can still help the Garden with a purchase

2011
Centred

solo exhibition
at Roma on Bungil Gallery, Roma, Qld
March 18 - April 17, 2011

2008 Round and Around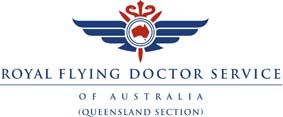 proudly supported the Royal Flying Doctor Service
solo exhibition
at Feather & Lawry Design Gallery, Toowoomba

November 2008

solo exhibition
at Chinchilla White Gums Gallery
July 2006

solo exhibition
at Balonne River Gallery, Surat
June 2005
design and content © Carol McCormack 2019
last update 02 02 2019