Barnawatha trio
acrylic on paper
Painting at Barnawatha in northern Victoria meant stepping sideways from the familiar. The palette was subtly different – even after a dry summer the colours were softer than I'm used to at home and of course there are many more hills!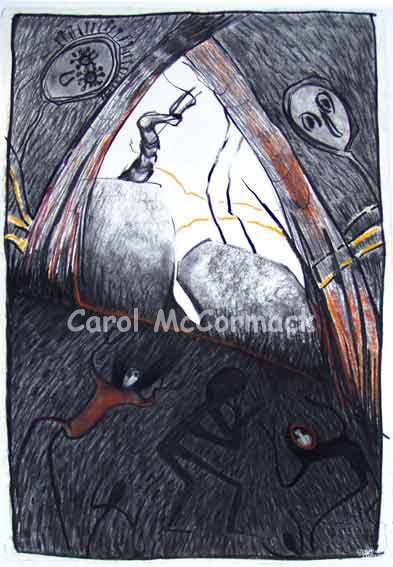 Behind the scene II
charcoal & pastel on paper
Black & white study for "Behind the scene.". Certain places such as this rocky outcrop on the Granite Belt make it easy to believe you are not alone, behind the scene there is another agenda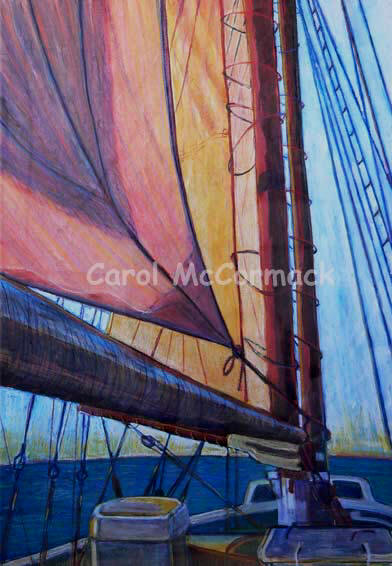 Broome sunset
acrylic & gouache on paper
Broome lived on its pearling industry for many years. Now tourists enjoy a sunset cruise off Cable Beach in a replica lugger. The ultimate experience for an easterner from western Queensland is the sight of the sun sinking into a molten sea.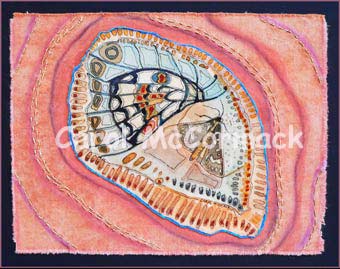 Butterfly wings
Watercolour on paper, varnished & mounted on cloth rubbed with natural pigment, stitchery

This image began as a watercolour doodle on a scrap of paper which reminded me of the shape of a butterfly wing.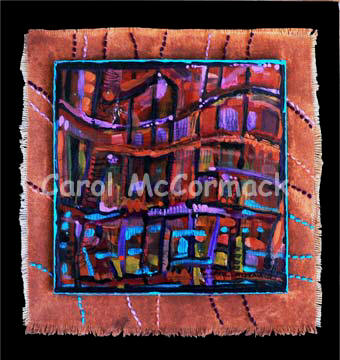 Carnarvon Gorge abstract
Acrylic on board mounted on cloth rubbed with natural pigment, stitchery.

More than once on our travels we passed the Carnarvon Gorge area without time to stop – this little abstract is one of several that poured out in frustration after we reached home!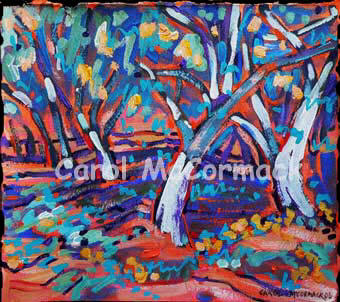 Cloncurry - Mt Isa glimpse IV
acrylic on paper
One of my favourite roads with a thousand different pictures around each corner. Here the bloodwoods are flowering along a shady creek.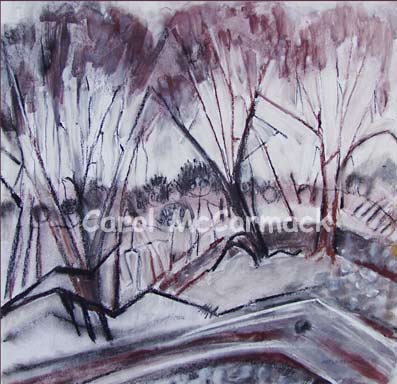 Dinnabarraba dancers
Gouache, natural pigment, charcoal on paper
Dinnebarraba Hill looks out over our paddocks. The dog and I spent a very hot weekend painting here one February. I wasn't pleased with the results and worked from them later in the studio, doing many versions of one composition.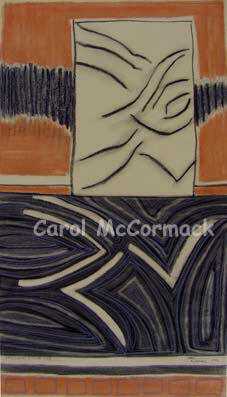 Drought dancing
pastel, graphite on paper
We dance to the rhythm of the seasons. Like it or not, drought is part of the pattern.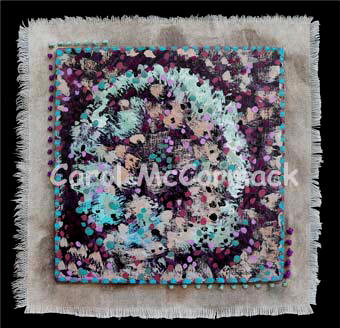 Girraween moss
Acrylic on board mounted on cloth rubbed with lichen, stitchery.
Mosses and lichens make fascinating patterns on the rocks of the Granite Belt.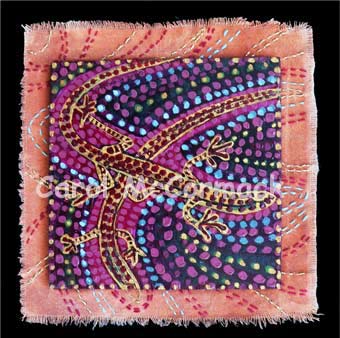 Girraween skinks
Acrylic on board mounted on cloth rubbed with natural pigment, stitchery
At Girraween National Park, I spent some time watching two small skinks sun themselves on the rocks. If you created a shadow over them, they scuttled for cover, and re-emerged when the coast was clear.

Hidden Valley jigsaw
pastel collaged onto coloured rice paper
Another view of Hidden Valley, tucked away behind the township of Kununurra.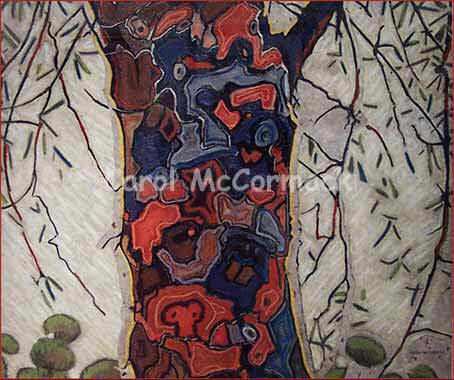 Leopardwood jigsaw
pastel collaged on mulberry paper
The leopardwood is one of my favourite trees with its colourful flaky bark. This one is at Myall Park Botanic Garden near Glenmorgan. The work was started in the '80s then lost in a tidy-up - when it re-appeared, a couple of the jigsaw pieces were missing…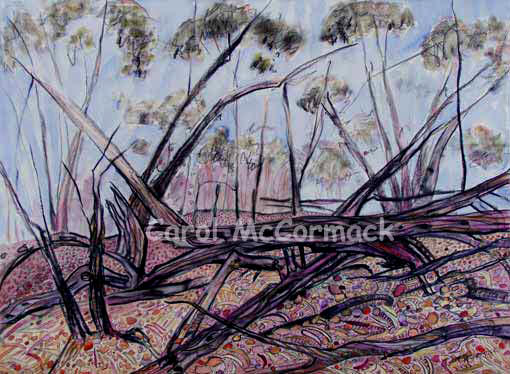 Ridgescape
charcoal, watercolour on paper
I don't often use watercolour, but decided it was the way to go to finish a drawing started on one of our bendee ridges many years ago.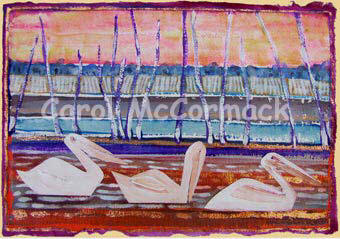 Sailing in the sunset
acrylic, copper leaf, collage on paper
Sometimes I get lucky on evening walks down to our dam.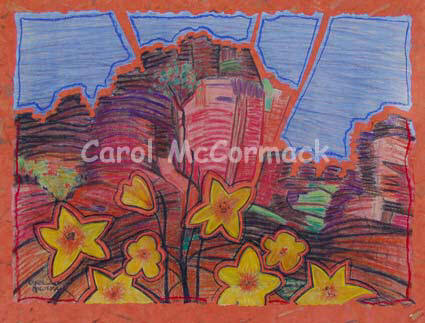 Wild cotton jigsaw
pastel on coloured mulberry paper
Another recently completed pastel from my first visit to Kununurra in 1986. The wild cotton flowers lit up the red rocks of the valley.